Mission Statement
Our Carriages, LLC is here to serve you, we are dedicated to providing quality, professional and individualized service. Our service offers an Exceptionally Unique Tribute to your Loved One, as well as a tribute the bereaved family will feel the departed Loved One would have approved of. Your farewell memories will be cherished and carried in the hearts of your family and friends, long after your Loved One has taken their final ride. We are an independent Motorcycle Hearse Company, family owned and operated serving the great state of Arizona.
Our Promise
A Special Farewell for a Special Person
Having lost a mother, father and several very dear friends, we sincerely sympathize with bereaved families and understand their need for an exceptional farewell to their loved one. Our company has the privilege of providing an exceptionally unique, personalized experience for families saying goodbye to a loved one.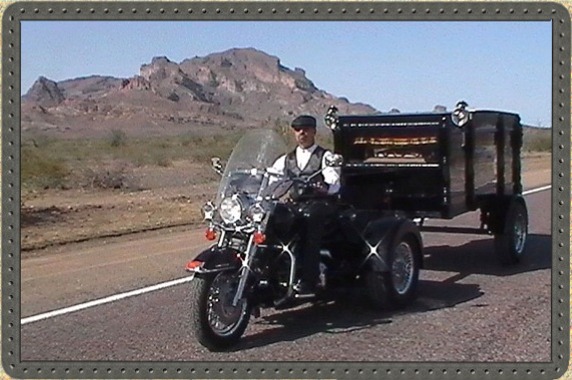 Company Goals and Objectives
Our Carriages, LLC goal is to provide the residents of the State of Arizona with a top quality alternative to the standard funeral & memorial transport service. Providing local funeral homes and the private sector with exceptional customer service generating a loyal customer base.
Our Carriages, LLC objective is to provide our services as requested by our clients, being available for morning, afternoon or evening funeral & memorial services, allowing 4 hours per funeral & memorial service, seven days a week, fifty two weeks a year.
Honorary Mention:
We offer Complimentary Final Ride services for "In the line of Duty" and special pricing for Veterans & Children.